ITALY FOOD IN AN EVENING WITH DANILO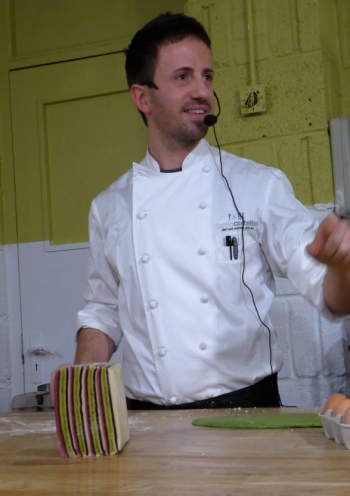 This evening, Friday 28th April we are celebrating a family birthday and doing it in style at the Mercato Metropolitano near the Elephant and Castle - www.mercatometropolitano.co.uk/.
This area of London had developed and grown beyond all recognition since it was merely a pub and a rather grimy, down-trodden area on the way out to Kent. Now all is steel and glass high rise buildings but tucked away down the Newington Causeway is the delightful Mercato Metropolitano. One seems to enter a different world in here, full of food stalls and cosy corners, coffee shops and wine bars, Italian produce displayed in all its various and delicious ways.

And here, in the cookery school area, we all meet for a demonstration by Danilo Cortellini, the head chef at the Italian Embassy in London. Danilo is a charming young man, famous for having been a finalist on Master Chef. His huge talents have led him from Abruzzo to the Embassy at 4 Grosvenor Square and we feel we are all being treated as honored guests and saying that truly, Mr Ambassador, you are spoiling us.

Danilo begins with a demonstration of his famous multi-colored pasta, rolled out into pale stripes of pink and yellow and green; while we gasp at this virtuoso performance we sip bubbly Prosecco and nibble perfect little mouthfuls of beef tartar, crispy rice balls and aubergine hamburgers.

These are followed by an interesting marinated mackerel with mozzarella, then ricotta tortelli with tomatoes and pecorino cheese. Pudding is a delicate and delicious chocolate cake served with vanilla pannacotta and strawberries.
We sit at long wooden tables and there is a warm and friendly atmosphere while we chat and eat and talk with Danilo and hear of his experiences. He is about to marry his pretty fiancée Gaia at the Embassy so we wish them every happiness. Thank you to Grub Club for letting us enjoys this privilege of private dining in great company with our own exclusive chef.  https://grubclub.com/
Some Danilo's recipes for this evening: http://italyfood-montecarlo.com/en/mackerel-with-wild-asparagus-and-buffalo-mozzarella.html

http://italyfood-montecarlo.com/en/tartar-di-manzo.html

His book: