MACKEREL WITH WILD ASPARAGUS AND BUFFALO MOZZARELLA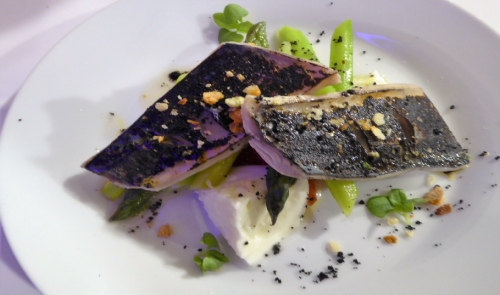 Ingredients
4 persons
2 x 600g whole mackerels
200g of wild asparagus
2 wine tomatoes
Salt and pepper, to taste
1 small bunch basil
150g fresh buffalo mozzarella
3tbsp extra virgin olive oil
A pinch of sea salt flakes
Olive powder and breadcrumbs, to garnish (optional)
FOR THE FISH MARINADE
160ml white wine vinegar
40g table salt
80g sugar granulated
Preparation
Start with the fish. To clean the fish from the gut, you need to insert scissors into its stomach and draw them towards the head. Open the stomach of the fish with scissors, remove the gut and rinse the fish in cold water. After cleaning the fish from the gut, pat it dry with a kitchen towel. With a very sharp knife, remove the fillets from the central bone by lifting it away and with the help of a fish tweezers, remove the tiny pin bones left from the fillets. Keep the fish fillets aside, leaving the skin on. To prepare the marinade, whisk the white wine vinegar with the salt and sugar in a bowl until everything is well dissolved.
Trim the asparagus by discarding the woody end part of the stalk, which you can easily do by snapping the asparagus by hand a couple of inches from the bottom. The proceed to wash them under running water and boil them in salted water for 1 minute. Let them cool down in iced water so they retain their beautiful colour.
To peel the tomatoes, blanch them in boiling water for about 30 seconds, and let them cool down in iced water. This will allow you to easily peel the skin off the tomatoes, and chop them up roughly. Dress the chopped tomatoes with a drizzle of extra virgin olive oil, salt and pepper and a few leaves of basil. Here, you can also add a touch of garlic if you would like to. Cut the mozzarella into rough cubes, and put the mackerel fillets into the marinade, where they should rest for no longer than 5 minutes. After 5 minutes, remove the fish from the marinade, and pat dry with a kitchen towel. Using a blowtorch, or under a very hot grill, burn the skin of the mackerel, and proceed to plating.
The chopped tomatoes are to be put first on the plate. Use a large plate for this starter. Add the mozzarella cubes, and top with the mackerel fillets, skin side up. Top it all with the wild asparagus that have been dressed in extra virgin olive oil, and for the finishing touch, sprinkle with some basil leaves and sea salt flakes.