Santiago Cake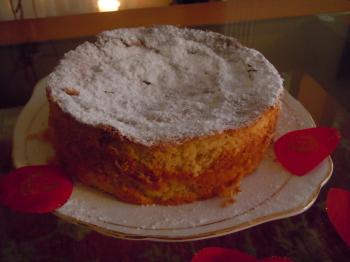 You will need
4 eggs
200gms sugar
200 gms ground almonds
the juice and zest of half a lemon
half a teaspoon of cinnamon
Méthode
Mix the yolks with three quarters of the sugar, almonds, zest, juice and cinnamon to make a stiff paste.
Whisk the whites with the remaining sugar until glossy and firm. Mix a little into the almond paste to loosen and then incorporate the rest of the whites, gently folding so as not to lose the air.
Butter and line a round cake tin and cook at 180 c for 35 minutes. Cover for the last 10 minutes with foil if you think it is getting too brown.
Leave to cool and turn out. Dredge with icing sugar before serving.
Le saviez-vous?
For ten days every February, the Sicilian town of Agrigento celebrates almond blossom. The gorgeous pale pink blooms in the Valley of the Temples are a sign that Spring is not far behind and that the farmers may turn their thoughts to sowing and planting once more. The almonds of this dramatic and beautiful island are world-famous; ground almonds make divine cakes and, as almonds are very healthy, we should all eat more cake.
La Tarta de Santiago is a particularly delicious one and has wonderful memories for me; Catherine and Carlos, a day of warmth and sunshine a green garden and shady trees, a hairy dog called Harry flopped on my feet under the table, cool white wine, laughter and friendship. And such a cake.