The Singing Cook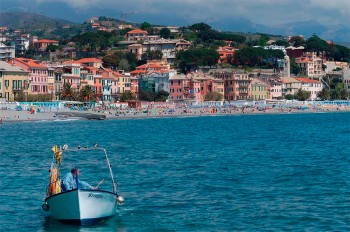 "A cold coming we had of it, Just the worst time of the year for a journey" It was not exactly the journey of the Magi but driving from Monaco to Genoa the temperature kept falling, the winds blew and the snow began to gust down from the Alps; lorries were banned from taking the mountainous roads up to Turin and Milan. We were glad to think that lunch was not far away and that a friendly cook/ restaurant owner was waiting for us in Celle Ligure, an elegant sea resort for the Milanese during the summer, extremely sleepy at this time of year with only a few hardy locals showing their faces.
The "Grand Italia" is on the sea front and we had a hearty welcome from Franco who prepared for us dishes to lift the heart and warm the body. I started with sardine fritters and my two companions tucked into huge plates of spaghetti with tomato and black olive sauce. We then shared a delicious "Fritto Misto" in which there were whole prawns, squid . mussels and anchovies. A flask of local white wine, one with a hint of sparkle ,was the perfect drink.
In the summer, of course, the atmosphere is utterly changed; there is a terrace and awning outside for soaking up the sun ,watching the beach life and the the holidaymakers on their strolls along the prom.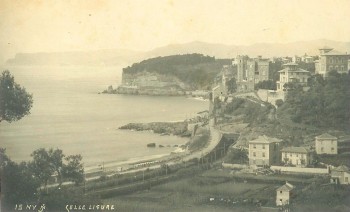 While we drank our coffee Franco , who has a wonderful voice, produced his microphone and treated us to some Boccelli favourites. Perhaps X Factor should be going down his way! It took courage to step outside again into the wind and the sleet but we had the consolation of feeling exclusive and having been given a private musical show.