Lunch with LT
Michelin Star Chefs are coming for lunch,
….but I am the one who is cooking! Laura Tobin - Dec 2015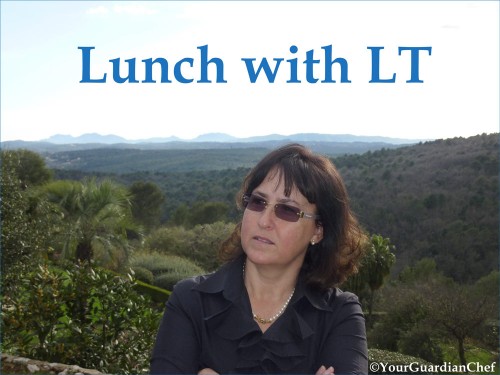 Hello, My name is Laura Tobin, and I run an English food blog.
I am an Italian professional, who enjoys cooking for my husband, our two boys and our friends. Most English Food Blogs are based in New York, Los Angeles, San Francisco and London. The French Riviera is so rich from a culinary perspective, someone should talk about it! 
So here I am!
During the gourmet festival 'Les Étoiles de Mougins', whilst mingling with the Michelin Star Chefs from the French Riviera, I discovered an interesting fact:
"No one invites Michelin Star Chefs for lunch or dinner!"
Understandably so, but was I going to pick up the challenge?
I decided to embrace it head on, and invited 2 starred chefs for a lunch of MY Home Cooking:
"Lunch with LT"
Why the name "Lunch with LT"?
Lunch with FT is a very successful column in the Financial Times, where journalists meet with famous people over lunch at their favourite restaurant.
The idea was launched in April 1994, it has a list of interviews of more than 800 names of the WHO'S WHO of our times: Presidents, film stars, tycoons, athletes, royalty, villains, monks and even a convicted murderer.
"But this is not just a series of interviews. What makes it special is the word 'lunch'….The hope is that anyone will be more relaxed with food on the table, and the minder out of earshot."
Let's do lunch by Matthew Engel.
Could I find two courageous Michel Star Chefs willing to take a chance? Well, I did!
Meet my special French guests: the Michelin Star Chefs !
Christophe Dufau *
Christophe has opened his own restaurant 'Les Bacchanales', situated next to the Matisse Chapel in Vence. After feeding your eyes and soul with the mystical beauty of Matisse's masterpiece, you will be ready to satisfy your palate with Christophe's creations.
'Les Bacchanales' can be defined as a Cooking Mansion, where food preparation and new recipe development is perpetual. The menu changes weekly, based on seasonal products and their availability. After all, you wouldn't expect an artist to paint the same picture every day.
So don't expect to find the same menu, as each week.......a new Artifice is inspired at 'Les Bacchanales' !
Arnaud Tabarec *
Head chef at the SeaSens Restaurant in Cannes, Arnaud has one goal: to take his customers on a journey, without ever having to leave their seats.
When Arnaud enters a room, you will know immediately. His buoyant personality can revive even the dullest place. The last time I saw him he was smoking a lobster under the astonished eye of the Mougins' public.
No wonder he is starring his own TV show "Hell's Kitchen" 14th of January on NT1!
Lunch with LT: This is what happens on the day!
8th of December 2015 @ 12:30
Christophe is coming with his wife Esty, and Arnaud with his Sous Chef Patrick Lopez. My husband Robert will also join us. First to arrive is Arnaud with Patrick, soon after Christophe and his wife Esty.
It is time to start, and while sipping a glass of Ferrari Prosecco my guests attentively read the menu, wondering what is in store for them!!
While reading the menu, the chefs look puzzled, Not a good sign...!
We take our seats and I start serving the Antipasti:
Baked Purple Aubergine Pizzas with Silana Provola Cheese, Cherry Tomatoes and Capers.
Baby Potatoes with Calabrese Curcuci and Silana Provola Cheese
Baby Potatoes with Tropea Shallots and Silana Provola Cheese
Grilled Purple Aubergine Pizzas with Rucola, Parmesan Cheese and Mussels
Why Calabresi Ingredients?
As I was in Tropea for a good friend's birthday celebration, I took the opportunity to buy some typical Calabresi products and got some inspiration from my uncle Nicola Zerbi. Most are his recipes and I am sure they will be a success.
In 1994 he opened a successful club/restaurant. Journalists, football players, actors, producers, anti-mafia judges, whoever was in Reggio Calabria would go to eat at Fuori Porta.
Even Carolina di Monaco and her family, on their way to the Eolie Islands, had deviated the yacht's route to try his food.
Although he has now retired and taken on the grandfather role, his cooking is still renowned within the region.
For this: "Lunch with LT", he is My Guardian Chef!
The Calabresi Ingredients are:
Curcuci: Includes the more exotic parts of the pig (such as neck, cheek, tongue, nose, ears, and kidneys) cooked in pork fat.
Silana Provola cheese is a sweet nutty cheese that runs when melted, similar to the scamorza.
Red shallots from Tropea, outstandingly sweet.
The room becomes exceptionally quiet. Christophe and Esty start to eat and Patrick is checking the wine, while Arnaud is looking for the definition of "Curcuci" on his IPhone .....
Christophe finishes his first bite and comments with a smile: "There is no dough in the aubergines; the aubergine is the pizza base!"
In a flash Christophe gets up and goes for more. Arnaud soon follows, and it is definitely the curcuci he is after!
The atmosphere instantly becomes more relaxed. Probably thinking: "Thank god, she is not actually feeding us pizza".
The meal continues:
Primo Piatto: Saint Paul de Vence Chayote Mousse with Mussels and Cime di Rapa
Main Course: Scallops, Shrimps, Salmon and Cod Fish Pie with a Mediterranean twist
Served with: Basil Mashed Potatoes, but at the last minute I decided not to mash them!
The wine served is: G. Milazzo, 'Terre della Baronia' Bianco Sicilia IGT, Sicily, Italy, 2014
Before we move to the cheese platter, I serve a lime sorbet to cleanse palate from the fish. Homemade sorbet of course, lime, sugar and drop of Vodka, .... to help the digestion!!
Cheese Platter:
Fresh Pecorino, matured Pecorino, and matured Caprino Calabrese Served alongside a Red Pepper compote
Cow and Goat Ricotta cheese swirled with 'Nduia.
Wine served: 'L'Oro di Casa Milazzo' - VendemmiaTardiva, Sicily
"Nduja is a spicy, spreadable pork sausage from Italy. It is typically made with parts of the pig such as the shoulder and belly, as well as tripe, roasted peppers and a mixture of spices."
(from Wikipedia)
When we started eating dessert, silence dropped in the room to honour the...
Almond Meringue served with Butter Sauce and Berries
Once the dessert hypnosis was over, I served coffee and sesame seeds biscuits over a beautiful seahorse holder designed by Christophe's wife Esty...what an elegant setting!
We had a good relaxed 4 hour meal. And it was not just about eating; it was the talking, the laughing, the food and the good wine.
This is the Mediterranean lifestyle British cardiologists recommend so much
The New York Times: The Mediterranean Diet: Is It the Food or the Lifestyle?
To thank the chefs for courageously accepting the challenge, I offered them: a copy of L'Editoriale of Monaco; where I had published my challenge call, and a tub of 'Nduia, for them to use and experiment with.
I offered a Doggy bag, and Christophe did not reject the offer.
'Nduia, cheese, 2 schallots and the sesams biscuits.
And if a French Michelin Star Chef is taking home the cheese, it must be a GOOD CHEESE!
I very much enjoyed their company and the whole experience, and I think my guests did too.
We said goodbye with a selfie by Arnaud!
Christophe, Esty, Arnaud, Patrick and Robert, thank you for the fun!
Christophe Dufau's comment on My Guest Book:
"Thank you Laura for being such a gracious hostess and very gutsy to prepare lunch for 2 Michelin chefs. I was delighted to discover new flavors from Calabria. I have to say that the highlight was your fabulous dessert. I had never tasted butter cream before, memorable. Esty and I hope to see you soon at Les Bacchanales."
Grazie Mille Christophe
Lessons Learned
Preparing the lunch was certainly not an easy task. Time pressure on my back and burning challenges to overcome!
So here is a summary of lessons learned:
When you go food shopping and you mention you have Michelin Star Chefs coming for lunch, you will get the best customer service and the best products: Now I know the right people in the right places.
I would like to thank: MarcheU, Les Legume de St Paul, Carrefour, Casino, Verrini & Figli, Mercato', Le Marchand Bio !
If you try to buy less than 1 kilo of curcuci...you should be ashamed of yourself!(so the shop attendant told me!!!)
Get started the day before so you don't have to start at 3am. Absolutely make the lime sorbet with Vodka a day ahead. You don't want to taste it at 4 am in the morning just before the lunch!
Make sure you take all the pictures you need, so you don't have to: ask your guests for pictures or cook the recipe again the day after the lunch.
Make sure there are no dogs around while you take pictures of the food!
...but...... I am still up for my next challenge!
Do you know any Michelin Star Chef who would like to join me for lunch?
Find all the recipes on the website: www.yourguardianchef.com
#guidemichelin #nytimeswell #frenchriviera #slowfood
©YourGuardianChef