Hotel Europa Abano Terme

"I come to wive it wealthy in Padua
If wealthy, then happily in Padua"
Petruchio had his own good reasons for visiting Padua but even those who are not looking for a rich wife may find many charms in this beautiful medieval city. The Scrovegni chapel with the glorious Giotto frescoes, the old university where Galileo used to teach , the "simply must do" cruise down the Brenta on the Burchiello barge, gliding past the elegant Palladian villas like La Malcontenta, finally arriving in the Venice Lagoon and sailing down the Grand Canal
But just outside Padua are other temptations and pleasures; not of the cultural kind but hedonistic and healthy, relaxing and restorative.
Abano Terme is not very well-known outside Italy but is well-worth getting to know. Here are hot thermal springs and glorious, mineral-rich mud to cure a huge variety of aches and pains. Here , taking the waters does not mean walking around sipping sulphurous, unpleasant cupfuls of it; rather, in swimming pools, inside and out, with the water at a delightful 36 C one can laze or swim or float about, perhaps under the stars , by the light of the moon, when the underwater pools lights are switched on. The mud treatments are a morning affair ; Monica covers one in the hot black stuff and then one remains covered and cocooned in warm blankets for 15 minutes. After a vigorous warm shower and ten minutes in the thermal bubbly bath, one feels that all pains and problems have melted away.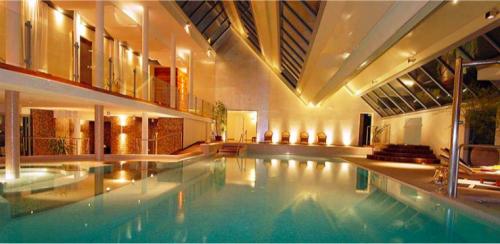 All this makes one extremely hungry. We always go to our favourite hotel "The Europa" where we are welcomed with affection and enthusiasm like old friends. The restaurant provides delicious and copious amounts of food, cooked with imagination and offering a huge variety of choices for lunch and dinner. The hard part is trying to watch one's weight and it is with reluctance that one refuses many of the tempting dishes. For lunch there is the buffet of "antipasti" just to get one in the mood but we find that we don't need anything else; We know when we are being greedy! I took one menu home to remind myself of the choice and the quantities. After the antipasti comes pasta or risotto or soup On 19th February I note there is risotto with hops, maccheroni with courgettes and capers, ( note that the north of Italy has "maccheroni" whereas the south has "macaroni"), vegetable soup and consommé'. The second courses are chicken with lemon, ossobuco, squid rings all served with vegetables. And then there is pudding. Dinner brings other temptations and more choices; salmon tagliatelle, porcini mushrooms and potato soup, veal cutlets in cream sauce, grilled local fish. And millefeuille to finish. By then it is time to stagger out of the restaurant and into the bar where a chilled limoncello or
grappa will help with the digestion.
Abano itself is not a very pretty town but if one has a wish to get out and about, Padua is a short bus ride away and Venice too is very close. I am not sure I would come here in summer time as the attraction of hot mud and hot pools would be far less; but in the winter when the nights are long and the steam rises from the water there is a delightful spooky, romantic atmosphere.
So, many good reasons to try a week of thermal, muddy magic with delicious food and a little gentle floating about.