Address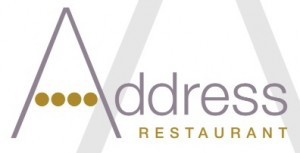 Nestled cosily beneath Monaco's Rock, tucked in one of the old and charming cobbled streets of which there remain but few, is a very modern and very pretty little estaurant called The Address.
And a good address it is too. We walk along the Rue Princesse Florestine, cross the Rue Princesse Caroline ( well, we do live in a Principality!), up a small escalator and here we are. A bright and warm welcome awaits us from Silvia and Gino who usher us to our table on the covered verandah.
This evening we have come with two Italian friends and their young daughters who are old enough to feel very hungry and young enough to feel sleepy by 10 o'clock. The girls want spaghetti with clams; perhaps we should have asked for their meals to be served immediately as the service is a little slow. The poor things are nearly drooping with hunger by the time their dinner arrives. Nostra Culpa. 
My husband starts with a plate of "moscardini" cooked in red wine, tomatoes, olives Taggiasche, capers and garlic croutons. I had thought to share them but these creatures are extremely small whole octopus, tentacles very much in evidence and as I am a bit squeamish about what my food looks like , I decline the offer. I did taste a bit of the sauce and I must say it is utterly delicious, like lobster bisque. I play safe and have home made saffron gnocchi with strips of squid and a gorgonzola sauce. A perfect combination of flavours which also looks very attractive.
At last the plates of spaghetti arrive and seem to meet with great approval and are polished off with gusto and speed.
I hardly ever eat desserts, not because I don't like them but one has to show some discipline. I do, however request a spoon so that I can taste someone else's. My husband has a semifreddo with nougat and it is light, elegant and very moreish.
Perhaps next time I go there, I shall have my own.
So, an attractive and warm, friendly restaurant; the prices reasonable though the wines are expensive for what they are. The service is a bit slow but the time passes pleasantly with chatter and pleasant company. And a big bonus for us, a five minute saunter home.
"The philosophy of Address restaurant is based on the values of the original italian kitchen with a creative twist presented in a casual-chic atmospere."