ROAST WITH ORANGE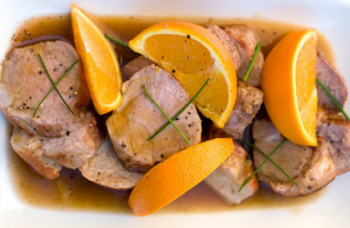 Ingredients
For 8 people

1 kg of pork fillet
1 onion
2 stalks of celery
2 carrots
1 cup white wine
2 large oranges
1 glass of cognac
Salt, pepper q.s.
Oil, butter q.s.
Preparation
Sauté the meat in a saucepan on with oil and butter on a bed of onion, carrot and celery chopped into small pieces; add salt and pepper.
Add a glass of white wine and let it evaporate, the juice of two freshly squeezed oranges and cook for about 2 hours.
When almost cooked, add the glass of cognac and let it evaporate: separate the meat from the juices strain the liquid.
Cut the orange peel into thin strips and cook them in a pan of boiling water for about 2 min. Finally, add the sauce to the meat and serve the roast sliced garnished with the sauce.