COOKIES of CHIARA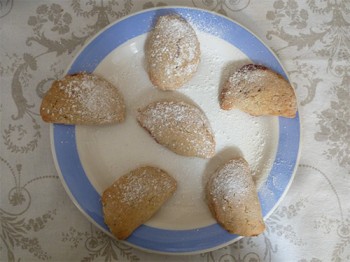 Ingredients
Ravenna
500g flour
100 g butter
200g sugar
1 package yeast
2 eggs
a little milk.
Preparation
 Make pastry by combining all the ingredients; eggs last to make a fairly firm dough.
Roll out the pastry and cut out circles of about 8 to 10 cm.
Place a little jam or marmalade on each round and fold in two to form half moons.
Cook in oven at 180°c. for 15 minutes.
Ideal accompaniment:
For your dessert a good wine : Moscato d'Asti Agricola Marrone

The Moscato d'Asti Docg is the dessert wine. Its color is straw yellow and in the bouquet, notes of white flowers, peach and apricot can be recognized. At the taste it is pleasantly sweet , refreshing, armonious and not fulsome at all. It is the festive wine to be enjoyed with friends. The Agricola Gianpiero Marrone believes in this wine as more often than not it represents for many the first approach to the enologic world. Franco Piccinelli, writer and journalist describes it as follows:
"It is the prince if white dessert wines and it preserves the bouquet and taste of the golden grape bunches which in Piedmont express themselves at their best. It was often reproduced but never matched. It is a must when enjoying a dessert and it is so low in alcohol content that it can be also enjoyed by young people. Traditionally, in country houses, it was served to guests at snack time together with focaccia and wafers.