CAVOUR ARTICHOKES In parmesan crust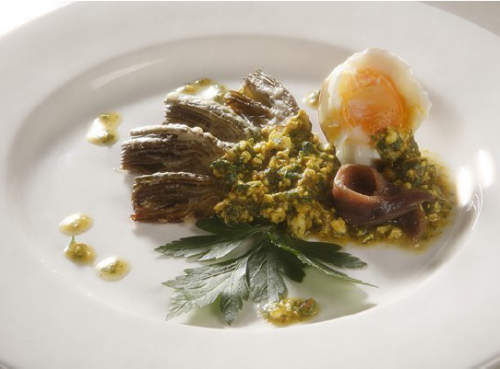 Ingredients
For 4 people :
8 small artichokes
2 boiled eggs
parsley
4 anchovies
100 g butter
150 g grated Parmesan cheese
Black pepper
Preparation
Choose young and small artichokes, very tender (from Liguria)
Remove the fibrous feet, peel them, clean and cook them in a large quantity of salted water for 15 minutes.
Drain them at the end of cooking, then arrange the artichokes in a dish.
Preheat oven to 200 ° C.
Melt 80 g butter in a small skillet over a very low heat. Then pour the melted butter over the artichokes.
Then roll the artichokes in grated parmesan, and arrange them in another hollow dish that can go to the oven.
Place the dish in the oven for 3 to 5 minutes. Keep warm in the oven off, at the end of baking.
Preparation of the sauce:
Prepare 2 boiled eggs. Peel them, then crush the eggs in a bowl with the finely chopped parsley and the anchovies (without bones) cut into small pieces.
Melt 50 g butter in a small skillet over very low heat. Add, as soon as the butter mousse, the hash prepared in the salad bowl.
Pepper, then mix well and reserve warm.
Pour the butter with egg, parsley and anchovy on the artichokes.
Serve quickly, hot with a good and fresh white wine - good appetite!