Apple Fritters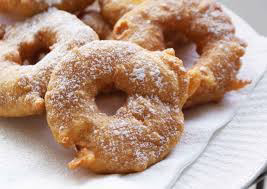 Ingredients
4 dessert apples
sugar
half a teaspoon of cinnamon
lemon juice
For the batter
2 eggs, separated
5 tablespoons flour
¼ litre beer
3 dessert spoons sugar
pinch of salt
Preparation
We have been staying in a delightful family-run hotel in the Italian Tyrol, surrounded by the high mountains and forests of this beautiful region. After a day of climbing and walking in the invigorating air, we look forward to our dinner with pleasure and appetite. The meals are excellent, cooked and prepared with elegance and imagination using the best of the local produce.
My information brochure about the "Alto Adige" tells me, amongst other things, that this region is Europe's most important apple producer and the Tyroleans are great apple munchers. It seems fitting, therefore, to give you a recipe for apple fritters which we have eaten with enormous pleasure.
Mix together the egg yolks, the flour, the beer and the salt until smooth. Leave to rest. Peel and core the apples and slice thickly into rounds. Add lemon juice to stop the apples from browning.
Whip the egg whites and fold into the batter mixture.
Heat the oil in a frying pan. Dip the apple slices one at a time in the batter and fry in the oil until golden. Remove and place on absorbent paper to remove excess oil. Sprinkle with sugar and cinnamon before serving. Can be served with vanilla ice-cream.
Ideal accompaniment:
With a good Moscato wine are fantastic!

Madi